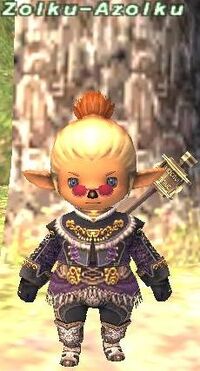 Zolku-Azolku
Race:
Affiliation:
Occupation:
Master Caster
Notes
Can use Tabula Rasa.
Appears during Campaign Battles as the leader of the Libran Casters.
Zolku-Azolku is a SCH, and will often be seen casting a weather spell on himself, followed immediately by a helix spell of the same element on an enemy. He also has access to tier IV elemental nukes as well as Ancient Magic II and other enfeebling black magic.
Zolku-Azolku will normally use the weaponskill Retribution. However, when his health is critically low, he'll start using his unique and powerful weaponskill Death Knell, which attempts to doom all enemies in range. It's not uncommon for him to take out a large amount of beastmen with him whenever he gets swarmed.
Talk: We all wear masks because deep down inside we are nothing but beasts. The question I ask you is, to which do you submit--the mask, or the beast?
Battle Cry: <Phew> I think I've had enough of this volume!
Involved in Quests
Community content is available under
CC-BY-SA
unless otherwise noted.