Fire Emblem Warriors: Three Hopes - The Loop
Play Sound
Walkthrough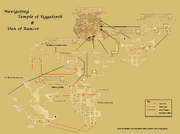 Mhebi Juhbily tells you to go away and shoos you away from the Shed she's standing in front of. Trade the Sandfish to her, then run around behind her and check the Shed for a cutscene.
Speak with Vah Keshura in the Ryuhkowa's Mercenary Merchandise who will tell you about a kitchen in Temple of Uggalepih and an evil chef. Talk to her again for additional dialogue.
Obtain a Tonberry Board from either a Tonberry Pursuer in the Temple of Uggalepih, or from a Tonberry Shadower in Yhoator Jungle, or from a Tonberry Trailer in Den of Rancor.
Travel to the Temple of Uggalepih using the Survival Guide.

If you don't have it registered, enter the Temple from J-12 in Yhoator Jungle, then head right and follow the path until you arrive at the junction at H-9 and head North. Once you arrive at the next intersection at G-7, head North again to the Survival Guide.

Head North and zone back into Yhoator Jungle then, staying on the ledge, head left and zone back into the Temple at H-11.
Head West then south until you reach a gate. Head through the gate and keep heading south until you reach H-10. Once there, turn west and go past the Granite Door.
Speak with Chef Nonberry, then trade them the Tonberry Board and you will receive Nonberry's Knife.

If you trade anything other than a Tonberry Board to Chef Nonberry, they will take the item traded and summon four chef NMs:

Cook Nalberry

who is a THF, Cook Minberry who is a NIN, Cook Solberry who is a BLM, and Cook Fulberry who is a SMN. They're capable of using their 2-hours and can be dangerous. It's recommended not to pop these.

Optional: Speak with Vah Keshura again for additional dialogue.
Return to Mhebi Juhbily to complete the quest.
Game Description
Client

Mhebi Juhbily (Near Mihgo's Residence, Kazham)

Summary

Mhebi wants to set her Tonberry free, but first, someone has to do something about his rusty knife.