Zone
Level
Drops
Steal
Spawns
Notes
Sea Serpent Grotto
64 - 66
1
A, L, H
~8,000 HP
??? MP

A = Aggressive; NA = Non-Aggresive; L = Links; S = Detects by Sight; H = Detects by Sound;
HP = Detects Low HP; M = Detects Magic; Sc = Follows by Scent; T(S) = True-sight; T(H) = True-hearing
JA = Detects job abilities; WS = Detects weaponskills; Z(D) = Asleep in Daytime; Z(N) = Asleep at Nighttime; A(R) = Aggressive to Reive participants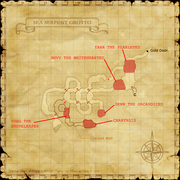 Notes:
Lottery Spawn from a single Lagoon Sahagin around L-6, located against the wall near the door opened with a Gold Beastcoin.
Approximately 1 hour window.
Killable by: 2 characters level 70, solo by some jobs at 75 (see testimonials)
This mob, along with Novv the Whitehearted, can be killed without the use of Benediction.
Uses Benediction at around 50% or as low as 1%.
Cannot be silenced or slept. Casting can be interrupted by damage and abilities.
Community content is available under
CC-BY-SA
unless otherwise noted.