Fire Emblem Warriors: Three Hopes - The Loop
Play Sound

Statistics
Damage Per Second: 9.66
TP Per Hit: 70
Enhances "Divine Veil" effect
Augments
Other Uses
How to Obtain
Cannot be auctioned, traded, bazaared, or delivered.


Cannot be obtained as a random reward from the Gobbie Mystery Box Special Dial and similar sources.
Quest
Special Event
Historical Information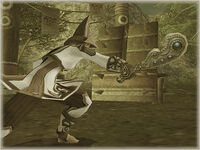 Also known by its alias, "Chaser," this robust red sandalwood club is plated in phosphorescent gold and exquisitely encrusted with an array of magically imbued sacred stones.
It is said to have been the weapon of choice for the legendary admiral, Veydal, who commissioned its creation to master crafter priests specifically for high sea encounters with the dreaded Leviathan.
Background
In Phoenician mythology, the god Baal Hadad had had two weapons made, Yagrush ("chaser") and Aymur ("driver"), to combat the tyrannical sea god Yam-Nahar. He struck Yam on the chest with Yagrush to no avail. Then he struck him on the forehead with Aymur and fell Yam to the earth. After Yam's defeat, Baal had a palace built for himself. The story parallels the conflict between Marduk and Tiamat in Mesopotamian myths.