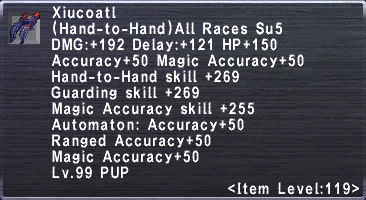 Statistics
Damage Per Second: +38.34*
TP Per Hit: +8*
*Base delay for Hand-to-Hand is assumed to be 480.
Other Uses
Synthesis Recipes
Goldsmithing 111~113

, Bonecraft (

), Leathercraft (

)
Yield: Pantin Fists x 1
HQ 1: Pitre Fists x 1
HQ 2: Xiucoatl x 1
Used in Recipes
Desynthesis Recipes
None
Obtained from Desynthesis
How to Obtain
Only obtainable through synthesis.
Community content is available under
CC-BY-SA
unless otherwise noted.