A Relic Armor set from the Dynamis zones, which the player may be rewarded with for defeating the enemies within. Worn by Dragoons, the armor is in the same style as the lower level Dragoon Artifact Armor set, yet it would be very difficult to confuse the two. Unlike the light purple Drachen Armor Set, Wyrm Armor is a deep blue color, and is easily recognizable as being entirely separate from its lower level counterpart.
The set as a whole not only brings benefits to the Dragoon, but its pet wyvern also, increasing its survivability by reducing the damage it takes, increasing its rate of HP recovered while resting, increasing the power of its breath abilities, and allowing it to benefit from whatever support job its owner is using.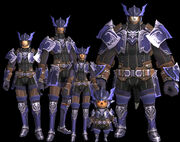 Number of Pieces: 6
Cost to store: 1000g
Level
Armor Piece
75
Wyrm Armet


[Head] All Races
DEF: 25 HP +16 STR +4 +10
Enhances effect of wyvern's breath
Lv. 75 DRG

74
Wyrm Mail


[Body] All Races
DEF: 49 HP +24 Parrying skill +15
Enhances "Resist Blind" effect
Adds support job abilities to wyvern
Lv. 74 DRG

73
Wyrm Finger Gauntlets


[Hands] All Races
DEF: 19 HP +16 AGI +3 Accuracy +5
Wyvern: Magic damage taken -5%
Lv. 73 DRG


71
Wyrm Brais


[Legs] All Races
DEF: 32 HP +13 DEX +5
Enhances "High Jump" effect
Wyvern: Physical damage taken -5%
Lv. 71 DRG


72
Wyrm Greaves


[Feet] All Races
DEF: 16 HP +10 VIT +4 +10
Wyvern: HP recovered while healing +6
Lv. 72 DRG


70
Wyrm Belt


[Waist] All Races
DEF: 5 VIT +5 Accuracy +7 Attack +7
Lv. 70 DRG

Note:
Set Summary
Community content is available under
CC-BY-SA
unless otherwise noted.