Zone

Level

Drops

Steal

Spawns

Notes

60-61

1

A, H
~7,500 HP


A = Aggressive; NA = Non-Aggresive; L = Links; S = Detects by Sight; H = Detects by Sound;
HP = Detects Low HP; M = Detects Magic; Sc = Follows by Scent; T(S) = True-sight; T(H) = True-hearing
JA = Detects job abilities; WS = Detects weaponskills; Z(D) = Asleep in Daytime; Z(N) = Asleep at Nighttime; A(R) = Aggressive to Reive participants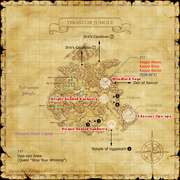 Notes:
Respawns every 21-24 hours at Bloodlet Spring (I-7).
Has twice the usual hearing aggro range.
Aggros at level 99.
Will use Benediction around 50%.
It does not cast magic, nor does it have MP.
Attacks somewhat quickly and Double Attacks often.
Soloable by level 75 for most jobs (see testimonials).
Community content is available under
CC-BY-SA
unless otherwise noted.