Black mages use their magic with but one desire - destruction with devastating spells. This black mage set is designed for spell casting, but dabbles in increasing durability in times of danger. The dark blue robe and distinctive petasos are well known and feared throughout Vana'diel. For a fee you can store the set at any Armor Storer.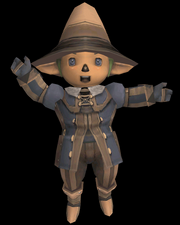 Number of Pieces: 5
Storage Options:
Armor Depository 500 gil for set on pick up.
Will receive Wizard's attire claim slip upon trading whole set to npc.

Porter Moogle with Moogle Storage Slip 04
Can store single pieces.
Level
Armor Piece
60

Wizard's Petasos
[Head] All Races
DEF: 20 MP +25 INT +4 +10 Enmity -4
Lv. 60 BLM


58

Wizard's Coat
[Body] All Races
DEF: 38 MP +16 VIT +5
Enfeebling magic skill +10 Enmity -3
Lv. 58 BLM


56

Wizard's Tonban
[Legs] All Races
DEF: 27 MP +14 Evasion +5
Dark magic skill +15
Enmity -1
Lv. 56 BLM


54

Wizard's Gloves
[Hands] All Races
DEF: 13 MP +12 CHR +3
Elemental magic skill +15 Enmity -1
Lv. 54 BLM


52

Wizard's Sabots
[Feet] All Races
DEF: 11 MP +10 AGI +3
Spell interruption rate down 20%
Enmity -1
Lv. 52 BLM

Note:
Set Summary
Community content is available under
CC-BY-SA
unless otherwise noted.