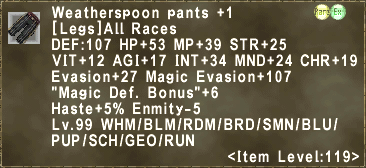 Statistics
Augments
Other Uses
How to Obtain
Peacekeepers' Coalition
1,800 bayld
Notes
Added
Updated
Nomenclature
Weatherspoon: The Order of Weatherspoon are one of the Twelve Orders of Adoulin, responsible for the city's juridical system. Part of this remit is jurisdiction over exorcists and their activities.
Pants: American English, meaning trousers, are an item of clothing worn from the waist to the ankles, covering both legs separately.
Community content is available under
CC-BY-SA
unless otherwise noted.