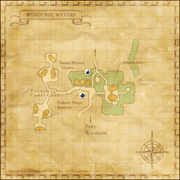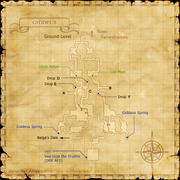 Walkthrough
You must change areas after completing the previous quest.
If you have triggered Say It with Flowers, you must complete it first (even if it does not appear in your log).
This quest cannot be repeated if you have activated the quest Curses, Foiled A-Golem!?. Talking to Leepe-Hoppe on the roof may activate Tuning In, which may also make this quest non-repeatable (or at least until Tuning In is finished).
Game Description
Client

Ohbiru-Dohbiru (Rhinostery, Windurst Waters)

Summary

Ohbiru-Dohburu is running out of the Giddeus water needed to raise Fluoro-flora. He wants you to take a Rhinostery canteen to the springs at the back off Giddeus in order to refill his supply.
Community content is available under
CC-BY-SA
unless otherwise noted.