Job:
Family: Bugards
Crystal: Fire
Weak to:

Notorious Monster
Zone
Level
Drops
Steal
Spawns
Notes
Vunkerl Inlet (S)
~72
1
A, H
~8,500 HP
??? MP

A = Aggressive; NA = Non-Aggresive; L = Links; S = Detects by Sight; H = Detects by Sound;
HP = Detects Low HP; M = Detects Magic; Sc = Follows by Scent; T(S) = True-sight; T(H) = True-hearing
JA = Detects job abilities; WS = Detects weaponskills; Z(D) = Asleep in Daytime; Z(N) = Asleep at Nighttime; A(R) = Aggressive to Reive participants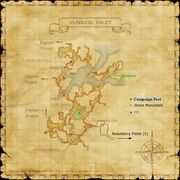 Notes:
Located around I-9.
2hr~ Timed Spawn (Looks like a 10 minute window 2 hours after death.)
Hits extremely hard, hitting decently geared MNK, SAM, and BST for 200-280 on normal hits.
Uses Bone Crunch and Tusk TP moves only.

Should be noted, unlike normal Bugards, Bone Crunch and Tusk are almost instant.
Community content is available under
CC-BY-SA
unless otherwise noted.