Zone
Level
Drops
Steal
Spawns
Notes
Buburimu Peninsula
22-23
1
H
650~750 HP, ??? MP

A = Aggressive; NA = Non-Aggresive; L = Links; S = Detects by Sight; H = Detects by Sound;
HP = Detects Low HP; M = Detects Magic; Sc = Follows by Scent; T(S) = True-sight; T(H) = True-hearing
JA = Detects job abilities; WS = Detects weaponskills; Z(D) = Asleep in Daytime; Z(N) = Asleep at Nighttime; A(R) = Aggressive to Reive participants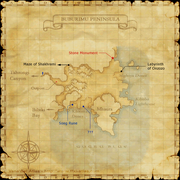 Notes
Spawns anywhere in the large, eastern section of Khoonta Dunes (H-9 to G-9.)
Timed spawn every 60~70 minutes.
Uses both Scissor Guard and Bubble Shower.
Has Regain.
Casts Drown (-1 HP/tick).
Known to start off with horrible accuracy but as fight progresses accuracy gets better and better.
Can be defeated by a party of 2 characters at level 23; soloable by Beastmaster at 22 or 23 and Summoner at 23 and by most jobs around level 26. (see testimonials)
Approximately 750 HP.
Undertaking the Hunt Registry for this NM rewards you with the Evolith "Wild Card" Ability delay -1".
Community content is available under
CC-BY-SA
unless otherwise noted.