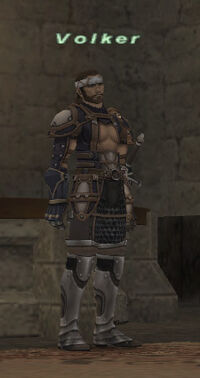 Volker
Notes
Fights alongside you during the battle for Bastok Mission 9-2: Where Two Paths Converge.

Seems to have low HP but fairly high attack power; can deal decent damage, but can easily be one-shot by the enemy's weaponskills if not careful. Uses Vorpal Blade during combat.
Also uses a skill called Berserk-Ruf, which gives him (and only him) Warcry.
Involved in Missions
Involved in Quests
Battle Info
Zone
Level
Drops
Steal
Spawns

Notes

1

A

A = Aggressive; NA = Non-Aggresive; L = Links; S = Detects by Sight; H = Detects by Sound;
HP = Detects Low HP; M = Detects Magic; Sc = Follows by Scent; T(S) = True-sight; T(H) = True-hearing
JA = Detects job abilities; WS = Detects weaponskills; Z(D) = Asleep in Daytime; Z(N) = Asleep at Nighttime; A(R) = Aggressive to Reive participants
Notes: