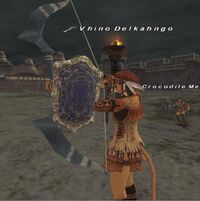 Vhino Delkahngo
Race:
Affiliation:
Occupation:
Mercenary Captain
Notes
Appears during Campaign Battles as the leader of the Crocodile Mercenaries.
Vhino's mercenaries are only deployed to Sauromugue Champaign (S).
Vhino uses her own special ranged weaponskill called Soulfetter Arrow.
Vhino has relatively high evasion and uses Triple Attack, suggesting that she may also be a Thief.
Talk: Back in my home, Ulbuka, I hear rumors of great riches in eastern lands. But now I am here, and where are riches? I see nothing but Tarus! Ahahahaha!
Battle cry: Petty beastmen hordes are nothing compared to giant wildebeests of homeland! I swat you all down like fruit flies!
Involved in Quests
Community content is available under
CC-BY-SA
unless otherwise noted.