Raise a Floppa - The Loop
Play Sound

The Vana'diel Clock keeps track of the time in Vana'diel. Like most Massively Multiplayer Online Role Playing Games (MMORPGs), the game takes place in real time. The time can be viewed in game and off game.
In Game
The time can be viewed in game at the lower left hand corner of the screen. You can also see the time and moon phased by typing /clock or selecting it from the menu.
Software
The online program allows a person to find out when various things will occur next in Vana'diel. This is possible since Vana'diel time follows a program that is similar to, although far faster than, Earth time and since all servers are synchronized in the same time. This is a very important tool to crafters who need to know when the opposing or aiding element day occurs, for finding out when a certain race's RSE is next avaliable, or to simply know when the next ferry or airship is due.
Hardware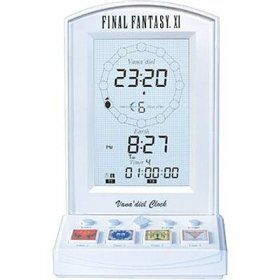 HORI released a Vana'diel Clock called the Final Fantasy XI Vana'diel Forever Clock which is officially licensed by Square Enix. It was released March 2005 and re-released November 2005. The clock is about eight inches tall and displays Vana'diel time, the moon phases, and Earth time. There are four alarms that that can be set to either Vana'diel time or Earth time. The alarms are the theme sounds to San d'Oria, Bastok, Windurst and Jeuno.
Vana'diel Clocks
Only Vana'naVi's clock seems to be synchronized with the game world. To be on the safe side, check for yourself with "/clock" or "Current Time" before attempting something using the above clocks.
Smartphone Apps