Zone
Level
Drops
Steal
Spawns
Notes
Valkurm Dunes
29-30
1
A, L, H

A = Aggressive; NA = Non-Aggresive; L = Links; S = Detects by Sight; H = Detects by Sound;
HP = Detects Low HP; M = Detects Magic; Sc = Follows by Scent; T(S) = True-sight; T(H) = True-hearing
JA = Detects job abilities; WS = Detects weaponskills; Z(D) = Asleep in Daytime; Z(N) = Asleep at Nighttime; A(R) = Aggressive to Reive participants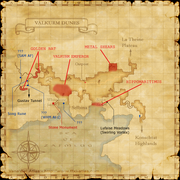 Notes
Lottery Spawn from Damselflies in the area spanning (D-8) to (F-8), with an average spawn time of approximately 2 hours.

Has a minimum respawn time of 30 minutes.
The true placeholder appears on Widescan as the top Damselfly in the group of four in between the Snippers and Thread Leeches.
Placeholder respawn time is exactly 5 minutes.

Appears as the last listing immediately before the leeches on the Widescan list.
Soloable by most jobs at level 35.
Successfully duoed by 2 level 25 bsts.