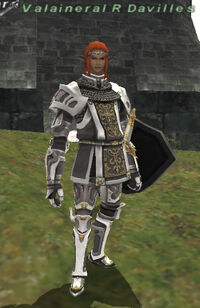 Valaineral R Davilles
Notes
Appears in campaign battles as the leader of the Royal Guard.
Valaineral is among the few that may be dispatched to Beaucedine Glacier (S) and Xarcabard (S) once San d'Oria regains most territory in their cordon.
Wields a Hauteclaire with a 100% proc rate additional effect: Light Damage. The additional light damage often deals a great amount of damage to enemies.
Periodically uses Shield Bash.
Casts Protect IV, Shell IV, Cure IV, Flash, Holy and Banish III.
Uses Invincible
Has a moderate Auto Regen effect.
Davilles favours using an AoE Light based weapon skill, Uriel Blade.
Has access to all Sword Weapon Skills.
Talk:The protection of the throne comes before all else. Only by direct order of the royaulais will I wield my blade on the battlefield. Such is the duty of the Royal Guard.
Battle Cry: Let the Blade of the Conqueror once again bring glory to the kingdom!
Involved in Quests
Community content is available under
CC-BY-SA
unless otherwise noted.