~~Under Construction~~



Main | Quests | Missions | Equipment | Magic
Character Details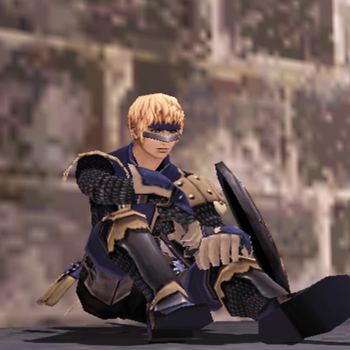 Name
: Ryozo
Race
:
Hume
♂
Nation
:
San d'Oria
Server
:
Sylph
Ryozo was created back in April 2005 when I originally installed Final Fantasy XI. He was created along with my partner who had created a character called 'Falta'. I only played Ryozo for a maximum of two months before I uninstalled the game, citing the subscription fees were too difficult to keep up with at the time. However, due to the trailer for Final Fantasy XIV Online, I re-installed the game on the 3rd January 2010 and reactivated my old PlayOnline ID of 'HigoshiRyozo'.
I had a brief hiatus between 3rd July 2010 and 25th May 2011 as I left to Final Fantasy XIV, however I returned to Vana'diel as I missed the content of the game and my Beastmaster.
History
Ryozo started out as a Beastmasters damage dealers were my favorite type of job. When I reactivated, I had a look through a list of to try and decide which one I wanted him to be. Originally it was Dragoon as Beastmaster sounded too complicated, but after a brief encounter with a linkshell which had a Beastmaster, I decided it was the job for me.
Beastmaster as the main job and Dancer as the subjob is my main subject and specialty. Where I will play other jobs, this is my main preference. Wither it be for, Abyssea or this is usually my preferred job.
Job Levels
Unlisted jobs have yet to be unlocked.
Craft Skills
| | | | | | | | | | |
| --- | --- | --- | --- | --- | --- | --- | --- | --- | --- |
| | | | | | | | | | |
| 1/100 | 2/60 | 0/60 | 4/60 | 4/60 | 2/60 | 16/60 | 5/100 | 10/60 | 0/50 |
Link Shells
Ryozo currently holds three link pearls and a Linkshell where he can be found. He is more active in some more than others, depending on the type of shell and how familiar he is with the other link pearl holders.

OnionKnights

Community content is available under
CC-BY-SA
unless otherwise noted.