Character
Inspectorgadget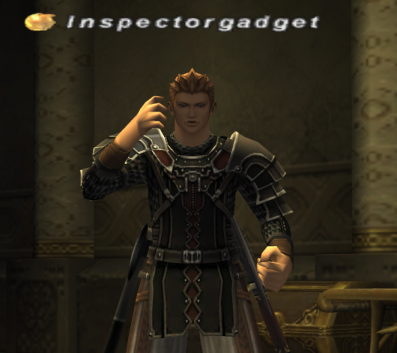 http://www.ffxiah.com/player/Lakshmi/Inspectorgadget
alt character: http://www.ffxiah.com/player/Lakshmi/Igadget
Current Events
Originally from the Kujata and Shiva servers, on September 3rd 2009 I was accepted to an endgame shell on Lakshmi by the name of SearchNDestroy. Since then my character has obtained many pieces of gear I probably would never have gotten in my prior linkshells. In my prime I became one of the more accomplished players on Lakshmi.
In June 2014, Inspectorgadget was perma-banned after a short comeback to the game (RMT violation. Long story short SE caught me over 2 years after I had sold over $12,000 in gil in a 9 month period. Say what you will about RMT but the money allowed me to pay for surgeries I needed to have done that wouldn't have gotten funded any other way). With the Lakshmi server being dead and almost everyone I know either quit, jumped servers, or gotten banned themselves, as of now I don't have any intentions to return to FFXI except for Free Play events which happen every few months or so on my alternate account.
Community content is available under
CC-BY-SA
unless otherwise noted.