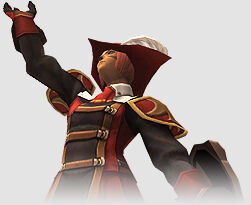 Red Mages (RDM) learn both White Magic (with a focus on self-enhancing spells) and Black Magic (with a focus on enfeebling spells). Their melee skills with swords and daggers are offset by a dearth of the most powerful spells, though the spells available to them are cast with an enhanced speed. This enables them to push the odds further in their favour during a solo melee, or fill any role that may be underrepresented as a member of a party.

Abilities
Traits
Merits
Group 1
Group 2
Job Points
Ability Enhancements
Gifts
Weapon Skills
Clubs
Daggers
Swords
Spells
See Red Mage Spell List for where to find spells as well as other information.
Combat Skills
Magic Skills
See Red Mage Skill Caps for a by-level breakdown of Weapon Skill limits.
Equipment
Starting Equipment
Artifact
Relic
Empyrean
Weapons
Other Equipment
Guides