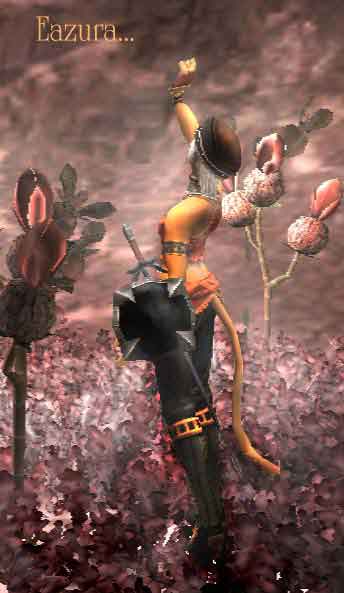 <<< E-mail Address: Whiteoblivion13@hotmail.com >>>
Eaz and User:Eirwen's myspace: http://www.myspace.com/eiruzura


Proud Accomplishments: Contributions to Society! Spread the love!

People Helped : 2
Carbuncle Ruby: 1
Parties Lead : 5



Page was Helpified sneakily from User:Drow
About Me
Young Female pre-Adult from the uk, born and bred lone wolf, mysterios powerful individual of the imagination and ambition, witness the many fragmented sides of her personality, neither she know'th who she'th be'th
Heylo ther! I am Luulin Version 17.77, nearing the 18th upgrade. Currently a second year college student, studying a National Diplimo in Media and Game Development, on this strange yet powerfull island known as england, that is most certainly inhabit with a variety of strange and wonderful mobs. But i have come to call this land home... Join us, and together we shall dominate the world with insanity. Id prefer love and freehugship though. Free hugs for all! <3
Character Story
Eazura Ashe:

Born after the war, an orphan living with her party addict Mog, Windurst is the only home she knew. Her lasting memories is the time spent down the dark allyways between the cliffs of windursts walls, watching as adventurers would flock in and out of the leviathans gate. She lived a simple quiet life, and to this day retains her love for freedom and fun over hardcore skill and seriousness.

Her world was turned upside down for over 3 months, due to an encounter with a Hume User:Drow and his companions. With alittle money she parted the streets and futile fishing, to become an adventurer and fill her life with a reason for existances. She was gifted with a higher class fishing rod, with which she earned more money and catches than ever before. She loves to hang where her memories lie, the stream where she would fish and cause trouble with foul mouthed fishermen, the ridge where she sat with her first true love, and heavens tower where she met the Star Sibyl... she had only dreamed about. With mission orders, a new link shell, and a new friend or two she set out to level and be recognised. Within the fierce pace of combat against Goblin beastmen, in the dark, she met her trusty all time friend User:Vivaea.
Upon the call, she set out on the long trip , with alittle help from a kind stranger, to the Valkurm dunes, she was knocked around and beaten down. She thought it was the end, but instead of quitting she pulled herself to her feet and started her own party!! Upon making camp, she began to call in adventurers that were strange to her. She requested the company of her old Black Mage friend, who she would poke fun at, to relax, like old times in the streets of windurst oh so far away, across land and sea and sand. Upon requesting the 3rd adventuerer, a young ranger, she accidently obtained a Power leveler. Things were going good. And for the first time ever, she fell in love. He had her from Yes Please

Since then she has been on many adventures.. and strives now to defeat all Notoriously Monsterious Foe..
Hower she is sceptical about the beastman threat, as she knows she once was considerd a beastmen too. "Would they have killed me too?"

Recently though, things have not been going to well for the now grown up mithra.. She is becoming a feeble RDM, things are becoming hard, and shes not even enterd the big time adventurers, she knows soon there will be many demands on her. And if she doesnt skill up and learn fast, shes going to be an outcast.. again.

Facts:
In Love with Musashe
Obsessed with Huge Sheep
Wants A Sheep
Favourite Spells are Regen, Enthunder, Enfire, Ice Spikes, Cure III
Wants some cool shades
Loves Musashes Gay Hat
Wants a gay hat like musashes

To do List:
Chocobo Licence
Subjob Quest
Tenshodo Member
Airship Pass
Airship Pass (Kazham)
Ballista Licence
All Gate_Crystals:


Unlock BST
Unlock SMN
Unlock WAR
Unlock NIN
Unlock DRK
Level Warrior to 15
Level White Mage to 25
Level Red Mage to 35
Level Beastmaster and Obtain SHEEP
Level Sommoner for Staticing


First Promyvion Ever
Obtain Davoi Key
Obtain Electrum_Ring from Davoi Chest
Finish CoP Mission for Tamas_Ring

Quests:
Eagle Button --> The_Pickpocket

Bone Chip --> Degenhard - Bastok Markets I-10
Cathedral Tapestry Ordelle Chest Key --> Signed_in_Blood
Silver Engraving -- > Garrison:_Pashhow_Marshlands The Road to Aht Urhgan
Crab Apron -- > The Road to Aht Urhgan
The_Stars_of_Ifrit -- > Agapito - Port Bastok (G-6)


Exit MH Windurst - Flower_Child
Exit MH San d'oria - Growing_Flowers
Exit MH Bastok - A_Lady's_Heart
Exit MH Jeuno - Pretty_Little_Things
The Road to Aht Urhgan: Not Chosen list yet.
Exit MH Aht Urhgan Keeping_Notes


Items Wanted
Scrolls:

Money Making Tactics:

?? Beast seals -
Wings_of_Fury
- 1x
BST
1x
RDM
:
Untested - Charm a bat to attack the other bat, whilst BST+RDM Take on the remainding bat.
Gardening:
In My Earthen pots:
Testing - Tarutaru_Rice Plant: Grain+Windsday+LastQuatreMoon(50%) Feed:EarthCrystal+Watersday+WanningMoon(14%) Harvest: Sale:
Goals To Greatness:
To Be the most Stylish,
Regular Party Leading,
Friend Helping,
Sheep familar craving
..Your Friendly Neighbourhood Mithra!
Summons Obtained:
Links
Helpfull Articles:
Troubleshooting: Connection Lost

Friends:
User:Drow
User:Frag
User:Shrew
User:Vivaea
User:Eirwen : Holds Title of Best Friend

Community content is available under
CC-BY-SA
unless otherwise noted.