Characters
Main

My main character is called Demetress, (a name initially given to me by the random system of the FFXI installation at startup). Demetress is a Hume Male who started his adventures on the Hades server. In March 23 2010 he was forced to transfer to Cerberus, due to the server merge SE implemented. His current residence is San d'Oria, to where he moved after living long enough in Bastok and Windurst to complete the mission storyline there and reach Rank 10 all nations.

His main job (and first to 99) is Beastmaster. Other 99 jobs are BLU, BLM, WHM, NIN and SAM. Demetress likes to solo-level jobs, trying out different job combo's (some of which might seem very strange at first, like RDM/BST; others are more generally accepted like DRG/BLU or SAM/DNC). He also particularly enjoys leveling jobs in a static with linkshell friends. However he is not very fond (understatement of the year) of leveling with pick-up parties.

Demetress is a crafter too: he's a level 100 in Cooking and has reached level 60 for all other crafts (except Smithing and Goldsmithing, but working on that). He really regrets the limitation of not being able to level more than one craft to 100 on the same char (which is why he created an army of mules to accomplish that goal).

Finally, Demetress likes to do quests, missions and Assault/Nyzul Isle type events. He's not particularly interested in end-game activities, however he did faithfully participate on a weakly base in Dynamis and Sky events for several years.

Currently, his major goals are to get the Abyssea +2 gear for WHM, BLM, BLU, BST, NIN and SAM. Sub goals are to get most of the jobs to level 50+ for subjob use and to complete all other storylines besides ZM, CoP and ToAU (currently working on WotG). Leveling some other interesting jobs from 50 -> 99 is on the menu (DNC and THF come to mind).

Signed: --Demetress 27 January 2012 (UTC)


Mules

In addition to my main character, I have a bunch of mules for different reasons. One of my ultimate goals is to have a level 100 dedicated mule for every craft existing in the game.
Meet the family:
Name
Alchemy
Bone
craft
Cloth
craft
Cooking
Fishing
Gold
smithing
Leather
craft
Smithing
Wood
working
Total
Demetress
60
60
54
100
51
41
60
38
60
524
Donkybas
100
0
0
6
0
27
0
25
23
181
Donkysan
29
8
2
0
0
1
8
30
75
153
Donkywin
0
7
86
0
0
18
41
0
0
152
Donkybastwo
5
0
0
0
0
16
5
59
0
85
Donkysantwo
0
0
11
0
0
0
93
0
0
104
Donkywintwo
0
87
0
0
0
0
6
0
2
95
Donkygold
0
0
0
0
0
60
0
25
0
85
Total
194
162
153
106
51
163
213
177
160
1379

The above table shows the progress of my crafting in general (main character and mules). It holds the current level of all crafting skills. The bold numbers indicate my current level in that craft and also indicate this is the dedicated craft for that character (to be taken all the way to 100). The italic numbers indicate a desired subcraft I intend to take to 60. Green background means 'Goal Achieved', yellow background means 'Goal not yet Achieved'.
The status of my Guildpoint (GP) Item Gear collection can be found on the subpage Guildpoint (GP) Items


Background
FFXI (pc version) was my first contact with the game (heck, even the genre). I created my character on October 29th 2004, and began finding my way in the Bastok City area as a male, Hume WAR. By the time I had it leveled up to 15, I realized I made the wrong choice. I was not destined to become a famous WAR. So I changed jobs and started over as a WHM.
I really like magic to help other players out where needed. This somehow gives me a better feeling of satisfaction than just slicing up the zillionth monster. However, after hitting level 20 I found out that the life of a WHM is very hard in Vana'diel. Keeping your party alive is a very demanding job and you can forget about that solo career. A WHM body is not made to catch more than an occasional blow.
So once again I decided to switch jobs and take on BLM as my main job with WHM subbed. I took both WHM and BLM to the mid 30's, then decided I had enough of the (at times) silly party discussions and started BST. Loved every second of it. I finally dinged BST75 on June 9th, 2006.
I stayed around as BST75 for a long time (over half a year), enjoying it every moment. I leveled BLM, WHM, NIN and THF for subs to 37-40 soloing as /BST. Then ToAU came out and I started to level BLU (2007). Got it to level 75 in a static with LS members but never got the same feeling as with BST. As a consequence I haven't done much with the job and I'm still lacking some of the spells from Sea. After BLU, I leveled BLM to 75 (2008) in more or less the same LS static that took my BLU to 75. I then found out that I love BLM more than BLU. As a consequence, my BLU is now retired. My last job to 75 is SAM (2009). I also love this job. I'm still in the progress of meriting it to become even more devastating (especially STR is a bitch to merit).
I also leveled PLD to 75, more or less at the special 'request' of the other static members of our EXP group who thought a tanking job would suit me great. To be honest, I really think they just wanted a tank to make their live easier (lazy bums :). Just wait till I prove them wrong...
With the introduction of the limit break update I took most of my 75 jobs to 99 (BST, BLM, BLU and SAM) and started working to get WHM and NIN to 99 as well (2011). I'm also working on some emperian weapons... camping NMs for hours and hours is not exactly my idea of fun. I'm not sure if I'm going to endure this till the end. We'll see...
General Info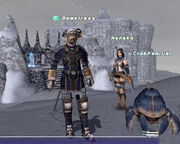 Thanks to Nix and Spops for the terrific layout I shamelessly stole to create my Userpages.

Community content is available under
CC-BY-SA
unless otherwise noted.