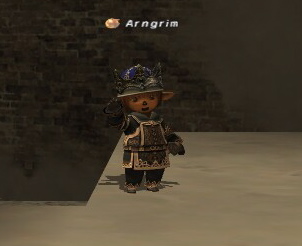 Arngrim wearing his Glory Crown
My Life in Vana'diel
I've always been a huge fan of the Final Fantasy series ever since the very first Final Fantasy debuted on the old NES. When I first heard Final Fantasy XI was going to be online, I was a bit disappointed at the move away from the stand-alone system. The idea of playing with other players seemed exciting, but I was afraid the main concept of the series, the storyline, would be lost. I decided to try it anyways and got my copy of the game for the PC when it first came out in Oct of 2003, where I created my first little Tarutaru on the Cerberus server. After a year and a half, I left the game somewhat disappointed at my inability to reach all the end-game activities as my life didn't allow the time I needed to get there. Over the years, I kept FFXI in the back of my mind and wished to return, and got especially tempted when I saw a new expansion with new jobs (Aht Urhgan). It was then that I was convinced to join again, this time onto Titan and a new Taru was born! I've loved every minute of being back in Vana'diel.

Since I'm a bit of a storyline freak, my main objective in this game is always questing and missions, and I hope to use this site as a place to gather my notes, journal the Accomplishments that I feel most proud of, and serve as a platform to help me track my progress of a very daunting task: To complete every mission and most of the quests in Vana'diel.

Quest & Collectible Checklists
Windurst | San d'Oria | Bastok | Jeuno | Outlands | Aht Urhgan | Crystal War | Other | Campaign Ops | Maps | Blue Mage Spells |
Abyssea Checklists
Community content is available under
CC-BY-SA
unless otherwise noted.