Job: Thief
Family: Rabbit
Crystal: Earth
Weak to: Water, Lightning, Dark

Notorious Monster
Zone
Level
Drops
Steal
Spawns
Notes
The Boyahda Tree
72
1
L, S, Sc
6,000~6,300 HP

Nyzul Isle

Floors 61 - 80, 81 - 99

1
A, L, S, Sc
??? HP


A = Aggressive; NA = Non-Aggresive; L = Links; S = Detects by Sight; H = Detects by Sound;
HP = Detects Low HP; M = Detects Magic; Sc = Follows by Scent; T(S) = True-sight; T(H) = True-hearing
JA = Detects job abilities; WS = Detects weaponskills; Z(D) = Asleep in Daytime; Z(N) = Asleep at Nighttime; A(R) = Aggressive to Reive participants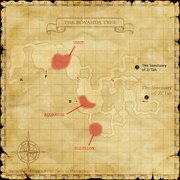 Notes:
Historical Background
In Egyptian mythology, Unut is a goddess with a rabbit's head. She originated from the pre-dynastic period as divine snake also known as "the swift one". She was worshiped at Hermopolis. During the dynastic period, she got a human body and a desert hare's head. She had a bunny-headed, white-garbed hieroglyphic denoting her, but she was rarely spoken of in literature or inscription. In other words, she's obscure, but there is a hieroglyph for her. Only one pharaoh ever took her as his patron deity, Unas, a pharaoh who reigned in the 2300s BCE. What she is the goddess of, however, isn't known.
Community content is available under
CC-BY-SA
unless otherwise noted.