This is the third Paladin Artifact Armor quest - otherwise known as AF3.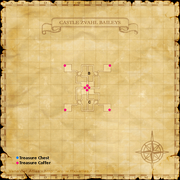 Walkthrough
You may finish the quest as any job at this point.
Although the quest is technically over after talking with Trion, the Knight's Confession will remain in your inventory until speaking with Vemalpeau one last time. Giving him his son's confession serves as a bit of closure, though this is entirely optional.
Game Description
Client

Trion (Prince Royal's Room, Chateau d'Oraguille)

Summary

Knights whisper of a traitor in their midst. An outsider is needed to investigate.
Community content is available under
CC-BY-SA
unless otherwise noted.