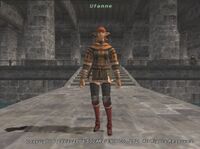 Ufanne
Notes
Dialogue:
Those two... I do wish they wouldn't carp so about who can catch more fish that whom. And why should I care either way?
After trading carp to Joulet or Gallijaux, but before zoning:
You've collected [current #] carps for [Joulet/Gallijaux] so far.

Those two--so feverish are they in their devotion to the art of fishing that they lose count of their haul of fish and have to start over from the beginning.
Involved in Quests
Community content is available under
CC-BY-SA
unless otherwise noted.