New Pokemon Games - The Loop
Play Sound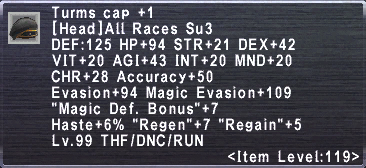 Statistics
View the entire

Turms Harness +1 Set

.
Other Uses
Synthesis Recipes
Goldsmithing 115~119

, Bonecraft (

)
Yield: Turms Cap x 1
HQ 1: Turms Cap +1 x 1
How to Obtain
Auction House Category: Armor > Head


Cannot be obtained as a random reward from the Gobbie Mystery Box Special Dial and similar sources.
Only obtainable through synthesis.
Derivations
Turms: Turms (𐌕𐌖𐌓𐌌𐌑) is the swift-footed messenger god of the Etruscan tradition, their equivalent of the Greek god Hermes. (Wikipedia)