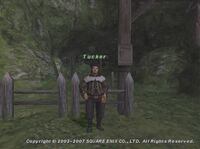 Tucker
Notes
Tucker will only trade with you if you have talked to Erlene first, and he will not take them if you have completed the quest.
Will trade one sheet of Vellum for a stack of 12 Rolanberries. A maximum of 12 sheets of Vellum is obtainable from Tucker.
You get 3 'trade turns' with Tucker - make use of them wisely by trading 4 stacks of Rolanberries at a time so that you can get all 12 Vellum sheets. He will not take more than 4 stacks per trade and he will refuse all Rolanberries after 3 trades. (This will cost you 17,280 gil if you buy the Rolanberries from NPC in Jeuno).
Involved in Quests
Community content is available under
CC-BY-SA
unless otherwise noted.