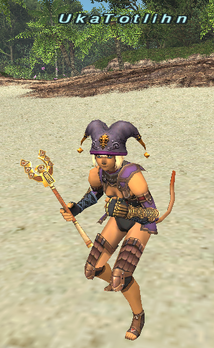 Notes
Dialogue
Summon: We'll dance to the abyss and back!
Summon (while Ullegore is in the party): It's you evil demon king Ullegore! Your evil plan stops here!
Summon (while Mumor is in the party): Sorry to have kept you waiting, Mumorrr. With the Mighty Maidens at your side, you've nothing to fear!
Dismiss: Are we done alrrready? If you need me, you know where to find me!
Death: Bongo, Tango, Fandango, for the love of...do something!
Trust
San d'Oria
Bastok
Windurst
Jeuno
Chains of Promathia
Treasures of Aht Urhgan
Wings of the Goddess
Seekers of Adoulin
Rhapsodies of Vana'diel
Records of Eminence Quests
Repeat Login Campaigns
Alter Ego Extravaganzas
Adventurer Appreciation Campaign
Seasonal Events
Unity Concord
Limited Time
Community content is available under
CC-BY-SA
unless otherwise noted.