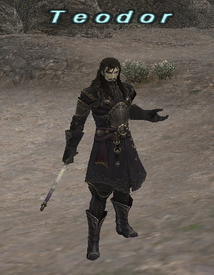 Race Hume
Role

Melee Fighter

Weapon Vampirism ("Great Sword")
Notes
Arciela / Balamor / August / Rosulatia / Teodor / Darrcuiln"
Dialogue
Summon: Come, wherever the challenge is greatest, let us strike forth with full fixity of purpose!
Summon (while Arciela is in the party): Arciela, I see you are in good company.
Summon (while Morimar is in the party): Morimar, most men your age would have mellowed out by now.
Summon (while Balamor is in the party): Hmph. It must have been a very cold day in hell for you to be up here on the side of justice, Balamor.
Summon (while August is in the party): Ah, August. You look not a day older. Once more together, my friend.
Summon (while Ygnas is in the party): Ygnas, that book of yours may let you cheat at Boom or Bust, but here we play for keeps!
Hemocladis: Consider this my calling card.
Dismiss: Haha... This old man has had enough fighting for one day. Give a man a healing salve will you?
Death: Haha...you've...bested me......