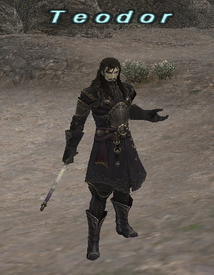 Race Hume
Role

Melee Fighter

Weapon Vampirism ("Great Sword")
Notes
Job Traits:
Weapon Skills:
Spells: Magic Bursts with -ja, -ga spells.
Notable:

Classed as undead - cannot be healed.
Teodor's auto attacks can switch between physical damage and dark magic damage.
If you can keep Teodor at Range he will spam his VERY powerful ranged attack (Dark damage), which looks like he's force-pushing an explosion on the enemy. This deals 2x or more damage than his melee. This attack doesn't seem to gain him much enmity.
His attack that shows a swipe animation inflicts Silence. May be a great Trust against casters. He only uses this if within melee range.
Despite wielding his iconic weapon Vampirism, he doesn't gain the Additional Effects of Drain HP, MP, or TP.

Per the December 11, 2018 update: "The following alter egos are now considered to wield great swords because of the addition of the Damage Limit+ job trait.
Arciela / Balamor / August / Rosulatia / Teodor / Darrcuiln"
Dialogue
Summon: Come, wherever the challenge is greatest, let us strike forth with full fixity of purpose!
Summon (while Arciela is in the party): Arciela, I see you are in good company.
Summon (while Morimar is in the party): Morimar, most men your age would have mellowed out by now.
Summon (while Balamor is in the party): Hmph. It must have been a very cold day in hell for you to be up here on the side of justice, Balamor.
Summon (while August is in the party): Ah, August. You look not a day older. Once more together, my friend.
Summon (while Ygnas is in the party): Ygnas, that book of yours may let you cheat at Boom or Bust, but here we play for keeps!
Hemocladis: Consider this my calling card.
Dismiss: Haha... This old man has had enough fighting for one day. Give a man a healing salve will you?
Death: Haha...you've...bested me......
Community content is available under
CC-BY-SA
unless otherwise noted.