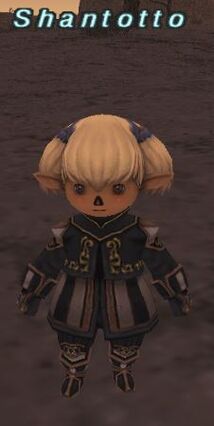 Race Tarutaru
Job Black Mage
Role

Offensive Caster

Weapon

Unarmed (does not melee)
Spell Cost

0 MP

Magic Type Trust
Jobs

All Jobs, Lv. 1

Casting Time

5 seconds

Recast Time

240 seconds

Obtained Trust: Windurst
Prerequisites Known:
Notes
Spells: single-target Elemental Magic nukes in rapid succession, with a focus on high-power nukes.
Notable:

When her MP is very low, she simply stands there; she does not melee.
Quickly depletes her MP, but becomes more conservative with spell tiers when the enemy's HP is low.
Outside of battle, she can be released and resummoned to restore all of her MP, as long as her recast timer is ready.
Cast spells related to the Threnody if present, but not as strictly as Ajido-Marujido does.
Dialogue
Summon: It's far too late for your foes to make amends, and with me at your side, they'll meet untimely ends!
Summon (with Ajido-Marujido in the party): Ajido-Marujido, tell me the truth. Are you following my teachings, or are your techniques still uncouth?
Summon (with Koru-Moru in the party): Ah, Koru-Moru, debtor extraordinaire. When it comes to running away, you've got a certain...flair.
Summon (with the Star Sibyl in the party): Ah, look who it is--a presence most divine. But when it comes to true power, I'm the most sublime!
Summon (with King of Hearts in the party): Oh dearie me, this one will need an overhaul once we return to the Manustery...
Dismiss: I am hardly amazed at how well I've done, but I have to admit--it's been fun!
Death: I'd love to stay longer and enjoy this little party, but I've got a seminar to attend, and must not be tardy!