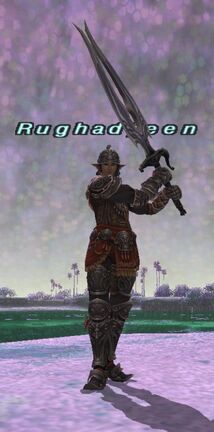 Race Elvaan
Job Paladin
Role

Tank

Weapon Great Sword
Notes
Has a fairly potent Enfire effect.
Dialogue
Summon: Steel your resolve, and a brighter future will be ours!
Summon (while Gadalar is in the party): Gadalar--never leave your back exposed!
Summon (while Mihli Aliapoh is in the party): Mihli, your lithe form is a welcome presence this day.
Summon (while Najelith is in the party): Najelith, bravery is a virtue to be preserved above all.
Summon (while Nashmeira is in the party): Empress, none can serve you greater than I.
Summon (while Zazarg is in the party): Zazarg, the only thing greater than ambition is to love soldier and country.
Dismiss: The rest is for you to decide.
Death: One day...I shall return.
Victory Beacon: Do not despair! The Goddess of Victory fights by our side!