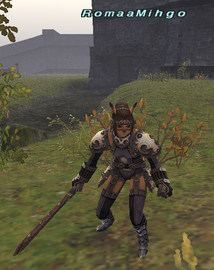 Spell Cost

0 MP

Magic Type Trust
Jobs

All Jobs, Lv. 1

Casting Time

5 seconds

Recast Time

240 seconds

Obtained Bundle of half-inscribed scrolls: Speak to Romaa Mihgo (S) in Windurst Waters (S) (G-11) (North) after completing the quest At Journey's End.
Notes
Dialogue
Summon: When they falter... we slice into their rrranks!
Summon (with Lehko Habhoka in the party): Lehko, If you're hungrrry... then maybe I can help you out.
Summon (with Nanaa Mihgo in the party): There's something familiarrr about you... Nanaa, was it?
Dismiss: Victorrry is close at hand!
Death: The rrrest...is up to you.
Community content is available under
CC-BY-SA
unless otherwise noted.