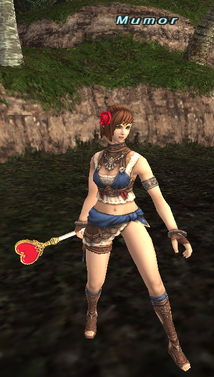 Race:Hume
Role:

Melee Fighter

Weapon:Miracle Wand
Magic Type:Trust
Casting Time:

5 seconds

Recast Time:

240 seconds
Notes
Dialogue
Summon: To see the inverted rainbow of your smile...!
Summon (with Uka Totlihn in party): I hope you're having a blast in your adventures--Uka and I are so glad to see you!
Dismiss: Less smiting, more reciting! See you soon!♪
Death: Urk...a singer is nothing...without her fans...
Trust
San d'Oria
Bastok
Windurst
Jeuno
Chains of Promathia
Treasures of Aht Urhgan
Wings of the Goddess
Seekers of Adoulin
Rhapsodies of Vana'diel
Records of Eminence Quests
Repeat Login Campaigns
Alter Ego Extravaganzas
Adventurer Appreciation Campaign
Seasonal Events
Unity Concord
Limited Time
Community content is available under
CC-BY-SA
unless otherwise noted.