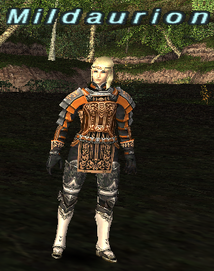 Race Zilart (Race)
Job Special
Role

Melee Fighter

Weapon

None
Notes
Must have completed the quest offered by the NPC to whom you trade the Cipher: Mildaurion.
Uses four unique Zilart weapon skills.
Will close skillchains when possible, but also will use a weaponskill as soon as she can if the player has 1,000+ TP. If the player does not, she will be more likely to hold her TP for longer.
Does not cast any spells at all, despite her high MPs.
Because of her native MPs, trusts with Refresh like Koru-Moru will waste time and MPs casting it on her.
Intimidates the Undead.
Dialogue
Summon: I will also fight alongside you. I must see this matter put to rest.
Summon (while Prishe is in the party): Prishe...I leave the fate of this world in your capable hands.
Summon (while Ulmia is in the party): Ulmia, even the first few halting steps are grand strides toward learning the truth.
Dismiss: My movements will be limited, but rest assured that I will be watching over you always.
Light Blade: For Vana'diel!
Death: If it ends here...there can be no beginning...