Fire Emblem Warriors: Three Hopes - The Loop
Play Sound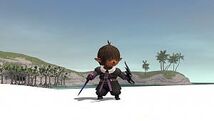 Race:Tarutaru
Job:Ninja / Black Mage
Role:

Elusive Caster

Weapon:

Two katana and shuriken.
Notes
Traits:

Daken - Occasionally attacks with a shuriken when auto-attacking.
Magic Attack Bonus - Increases damage dealt by spells.

Abilities:
Weapon Skills:
Ninjutsu
Black Magic
Synergy:
Notable:

Prefers to open skillchains. Will remember the last weapon skill used by the party leader and will open the highest-tier skillchain possible. Will not open skillchains for other trusts in the party.
Magic bursts skillchains twice, with Ninjutsu and tier 1 elemental Black Magic, MP permitting.
Prioritizes self buffs and debuffing his current target at the start of combat.
Ranged Attack - Uses shuriken.
Dialogue
Summon

"Greetings, adventurers! Matsui here, happy to join you in Vana'diel!"

Sufficent TP

"Ready for skillchain."

Sufficent TP

"Use a fragmentation weapon skill!"

Sufficent TP

"Fusion weapon skill! Now!"

Sufficent TP

"Hit 'em with a distortion weapon skill!"

Unknown

"Wait...something's wrong with my macros."

Dismiss

"How'd I do? And don't say my alter ego did it better!"
Trust
San d'Oria
Bastok
Windurst
Jeuno
Chains of Promathia
Treasures of Aht Urhgan
Wings of the Goddess
Seekers of Adoulin
Rhapsodies of Vana'diel
Records of Eminence Quests
Repeat Login Campaigns
Alter Ego Extravaganzas
Adventurer Appreciation Campaign
Seasonal Events
Unity Concord
Limited Time