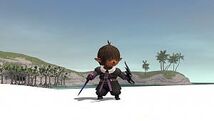 Race:Tarutaru
Job:Ninja / Black Mage
Role:

Elusive Caster

Weapon:

Two katana and shuriken.
Notes
Traits:

Daken - Occasionally attacks with a shuriken when auto-attacking.
Magic Attack Bonus - Increases damage dealt by spells.

Abilities:
Dialogue
Summon

"Greetings, adventurers! Matsui here, happy to join you in Vana'diel!"

Sufficent TP

"Ready for skillchain."

Sufficent TP

"Use a fragmentation weapon skill!"

Sufficent TP

"Fusion weapon skill now!"

Dismiss

"How'd I do? And don't say my alter ego did it better!"
Community content is available under
CC-BY-SA
unless otherwise noted.