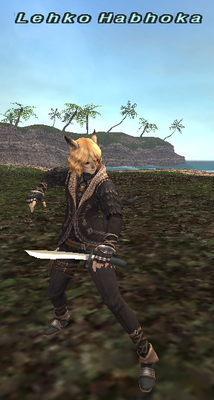 Race Mithra
Job Thief / Black Mage
Role

Melee Fighter

Weapon Dagger, throwing daggers, and roundhouse kicks
Spell Cost

0 MP

Magic Type Trust
Jobs

All Jobs, Lv. 1

Casting Time

5 seconds

Recast Time

240 seconds

Obtained Trade Cipher: Lehko to Gondebaud, Clarion Star, or Wetata (must have completed the quest offered by the NPC with whom you trade)
Notes
Weapon Skills:
Spells: Tier I and II single-target elemental spells based on target's weaknesses.
Notable:

Uses Ranged Attacks very frequently, but still runs in to kick or slash if his target is out of range.
Like Lion, he occasionally uses roundhouse kicks in place of his dagger.
Dialogue
Summon: Will you see a demon or a saint? Well...that's not for me to decide.
Summon (while Robel-Akbel is in party): Warlock Warlord, I hope there is finally some honorrr to be found at the end of this bloody trail...
Summon (while Romaa is in party): Romaa, come, let us be frrree... together.
Debonair Rush: Here's betting your bark is worrrse than your bite!
Dismiss: If you're interested in learning more, there's some space in my chambers...
Death: Grgl...I can't...fulfill my prrromise to you...