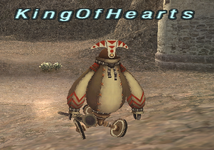 Race Cardians
Job Red Mage / White Mage / Black Mage
Role

Active Support

Weapon Staff
Notes
Mob Traits: Undead Killer (conversely, can also be intimidated by any player or monster with Arcana Killer).
Mob Abilities: Cardian TP-based (see weapon skills).
Weapon Skills:
Spells:
Notable:

Possesses increased duration for Enhancing Magic.
Levels up after weapon skills on occasion; what effects this gives are currently unknown.
Per the December 10, 2015 update: "The priority of the weapon skill Shuffle has been increased."
Dialogue
Summon: NeED★RdM? PLeaSe sENd★teLL!
Summon (while Shantotto is in the party): LaDy★KaRabAbA. PeRMisSioN★to uTiLizE★pHYsiCaL FoRce.
Weapon skills: FuSIOn★BaTteRIes★ACTiVAtEd★FIre fOR EFfeCt★ComMeNCiNg.
Dismiss: ThiS★caNnOT bE!!!
Death: SYs★teM...★oVEr★lOAd...cArdDiaN★oVER.
Community content is available under
CC-BY-SA
unless otherwise noted.