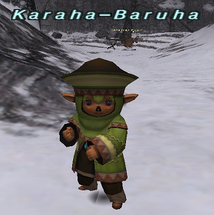 Notes
Dialogue
Summon: A grand welcome...to all of you.
Summon: (With Trust: Star Sibyl present) Star Sibyl, does something bother you? You have nothing to fear with me by your side.
Summon: (With Trust: Robel-Akbel present) It falls to you and me to take back the future, Robel-Akbel. Or should I say...
Howling Moon : The light shall never fade!
Dismiss: I hope that the people of Windurst are able to rest easy at night.
Death: The moon...sets...