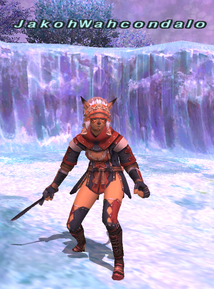 Notes
Must have a personal evaluation of five points or greater during the Unity ranking tabulation period. [1]

Changing Unities, or having a personal evaluation lower than five points for two consecutive ranking tabulation periods will make Trust: Jakoh Wahcondalo (UC) unavailable.
Raising personal evaluation up to five points during the Unity ranking tabulation period will make it possible to call forth Trust: Jakoh Wahcondalo (UC) again.

Unity leader Alter Egos receive bonuses to all stats based on the Unity ranking held at the time of summoning.

Uses Conspirator, Feint.
Has Double Attack and Triple Attack
Uses Sarva's Storm (functionally identical to Rudra's Storm).

Will stack Sneak Attack with it if she's behind the monster.
Dialogue
Summon: Khazam's Jakoh Wahcondalo rrreporting in!
Summon (while ranking is high): My Unity can always use more strong people like yourrrself.
Summon (while wearing Jakoh Unity Shirt): Get a look at you! You're cerrrtain to turn heads with that attire!
Dismiss: Aren't I good? Yeah, I know I am.
Death: It...can't be!