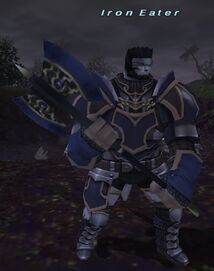 Notes
Uses Shield Break, Armor Break, and Steel Cyclone.
Uses Berserk and Restraint.

While Restraint is active, he tends to not use a weapon skill until he reaches 300% TP.

Uses Provoke when his summoner has below 50% HP and is not already targeted by the enemy. He will not Provoke enemies off other Alter Egos.
Dialogue
Summon: I may not be the most effective of soldiers, but I promise to do all that I can.
Summon (while Naji is in the party): Naji... Try not to make too much trouble for our friend.
Dismiss: All rivers eventually lead out to sea... May we meet again.
Death: It comes as no surprise that they would resort to such cheap ploys...