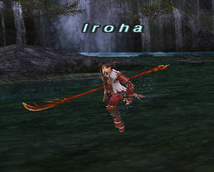 Race Hume
Job Black Mage / Samurai
Role

Melee Fighter

Weapon

Naginata
Notes
Dialogue
Summon: Master, it gives me no greater pleasure than to fight at your side!
Summon (while Selh'teus is in party): Lord Selh'teus, your voice has always helped keep me on the path of virtue.
Summon (while Tenzen is in party): Lord Tenzen...how wonderful to see you again...
Dismiss: I would give anything for the gods to keep me here longer!
Amatsu: Gachirin: Strike true!
Death: Vana'diel, please permit me to remain here for a little while longer!