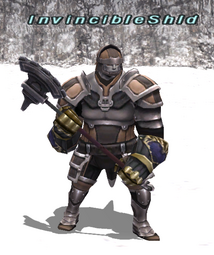 Notes
Must have a personal evaluation of five points or greater during the Unity ranking tabulation period. [1]

Changing Unities, or having a personal evaluation lower than five points for two consecutive ranking tabulation periods will make Trust: Invincible Shield (UC) unavailable.
Raising personal evaluation up to five points during the Unity ranking tabulation period will make it possible to call forth Trust: Invincible Shield (UC) again.

Unity leader Alter Egos receive bonuses to all stats based on the Unity ranking held at the time of summoning.

Uses weapon skills: Raging Rush, Steel Cyclone, Soturi's Fury.
Uses job abilities: Provoke, Restraint, Retaliation, Warcry, Blood Rage.
Dialogue
Summon: Stand strong behind me, for my defenses reign supreme!
Summon (while ranking is high): I don't care how strong you thought you were before joining my Unity. Stay loyal, and I'll whip you into a frenzied killing machine!
Summon (while wearing Invincible Shield Unity Shirt): One of my maggots having a good time, I suppose?
Dismiss: Never forget your basic training, maggots!
Death: Don't think you've won yet...!
Community content is available under
CC-BY-SA
unless otherwise noted.