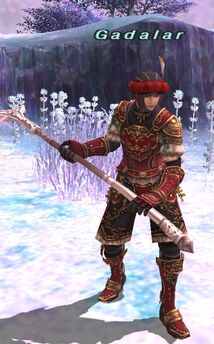 Race Hume
Job Black Mage
Role

Offensive Caster

Weapon Scythe
Spell Cost

0 MP

Magic Type Trust
Jobs

All Jobs, Lv. 1

Casting Time

5 seconds

Recast Time

240 seconds

Obtained Embers of His Past
Notes
Dialogue
Summon: Get outta the way or get burned!
Summon (while Rughadjeen is in the party): Hmph. I can handle this on my own, Rughadjeen!
Dismiss: Stop bumbling about and keep your nose to the grindstone!
Death: What a load of... How could they possibly defeat me!?
Community content is available under
CC-BY-SA
unless otherwise noted.