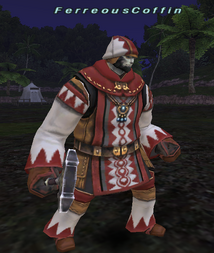 Race Galka
Job White Mage / Warrior
Role

Healer

Weapon Mjollnir
Notes
Dialogue
Summon: Be strong, for the Goddess is with you, always.
Randgrith: Return to the dust whence you came! Randgrith!!!
Dismiss: Perhaps the time has come to return to the fray and do my part for the greater good.
Death: I fear not death, for the Goddess awaits us with open arms.