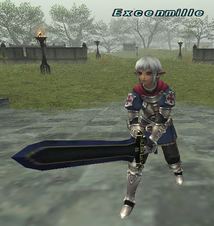 Race Elvaan
Job
Role

Melee Fighter

Weapon Great Sword
Spell Cost

0 MP

Magic Type Trust
Jobs

All Jobs, Lv. 1

Casting Time

5 seconds

Recast Time

240 seconds

Obtained Bundle of half-inscribed scrolls: Speak to Rholont in Southern San d'Oria (S) (E-7) after completing the quest Face of the Future.
Notes
Dialogue
Summon: A knight is one who stays true to himself, even in the face of overwhelming adversity.
Dismiss: I desire the strength, courage, and wisdom to stand against even the fiercest enemies!
Death: You must succeed...where I have failed.