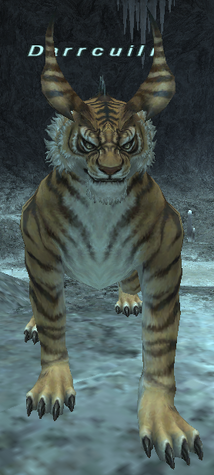 Race Wildcat
Job
Role

Melee Fighter

Weapon Teeth and Claws ("Great Sword")
Notes
Job Traits: Lizard Killer. Strong Regen when not fighting.
Weapon Skills:
Notable:

Switches between physical and non-elemental magic damage (damages PLD during Invincible).
Per the December 11, 2018 update: "The following alter egos are now considered to wield great swords because of the addition of the Damage Limit+ job trait.
Arciela / Balamor / August / Rosulatia / Teodor / Darrcuiln"
Dialogue
Summon: (I am Darrcuiln, bearer of Terrcualn's bloodline. Lead me to your prey.)
Summon (while Morimar is in the party): (Morimar, allow me to lead this hunt.
Summon (while Arciela is in the party): (Princess, the wilds can be perilous. Do not stray too far from the pack.)
Summon (while Ygnas is in the party): Yg, I entreat you to not ride me like a chocobo.
Stalking Prey: (You're mine!)
Dismiss: (Your strength is all we were led to believe.)
Death: (Forgive me. The prey...is strong.)