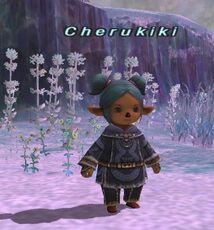 Race:Tarutaru
Job:White Mage
Role:

Healer

Weapon:

None
Notes
Dialogue
Summon: Come on! Let me at 'em! A good punch is nothing without a couple black eyes!
Summon (while Kukki-Chebukki is in the party): The Chebukki Show is back in action-waction!
Summon (while Makki-Chebukki is in the party): Makki's back ! Nyahahahahaha!
Summon (while Tenzen is in the party): Oh, mighty Tenzen! Does this mean the Chebukki Samurai Sky Pirates live once again!?
Summon (while Prishe is in the party): Oh nooo, not Prishe! We're all done for!
Meteor: Ooor!
Dismiss: Next time on the Cherukiki Show--death by tickling!
Death: Urgh... At least it beats getting smacked around by Prishe...
Trust
San d'Oria
Bastok
Windurst
Jeuno
Chains of Promathia
Treasures of Aht Urhgan
Wings of the Goddess
Seekers of Adoulin
Rhapsodies of Vana'diel
Records of Eminence Quests
Repeat Login Campaigns
Alter Ego Extravaganzas
Adventurer Appreciation Campaign
Seasonal Events
Unity Concord
Limited Time
Community content is available under
CC-BY-SA
unless otherwise noted.