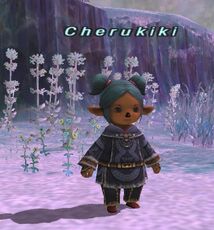 Race Tarutaru
Job White Mage
Role

Healer

Weapon

Unarmed (does not melee)
Spell Cost

0 MP

Magic Type Trust
Jobs

All Jobs, Lv. 1

Casting Time

5 seconds

Recast Time

240 seconds

Obtained Chains and Bonds
Notes
Obtained by completing Chains and Bonds and then speaking to Taillegeas in Ru'Lude Gardens (I-7).

Trust: Cherukiki may not be acquired between the time the mission The Warrior's Path is offered and the boss of the mission Dawn is defeated.

Casts Haste on her summoner and other Alter Egos.
Casts healing spells at yellow HP and Regen spells up to Regen III regardless of HP.
Does not attack.
Does not remove debuffs.
Runs back and forth frequently. After drawing Hate, this can result in aggro from a wider radius than where the fight started.
Sometimes casts Meteor if Kukki-Chebukki and Makki-Chebukki are both present.
Often performs emotes when not casting. This may only happen if her siblings are present.
Dialogue
Summon: Come on! Let me at 'em! A good punch is nothing without a couple black eyes!
Summon (while Kukki-Chebukki is in the party): The Chebukki Show is back in action-waction!
Summon (while Makki-Chebukki is in the party): Makki's back ! Nyahahahahaha!
Summon (while Tenzen is in the party): Oh, mighty Tenzen! Does this mean the Chebukki Samurai Sky Pirates live once again!?
Summon (while Prishe is in the party): Oh nooo, not Prishe! We're all done for!
Dismiss: Next time on the Cherukiki Show--death by tickling!
Meteor: Ooor!
Death: Urgh... At least it beats getting smacked around by Prishe...
Community content is available under
CC-BY-SA
unless otherwise noted.