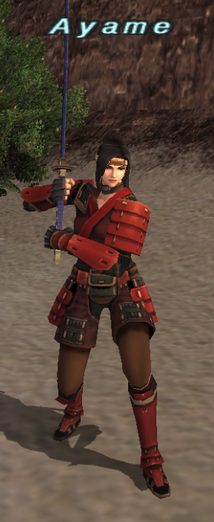 Race Hume
Job Samurai
Role

Melee Fighter

Weapon Great Katana
Notes
Must have a personal evaluation of five points or greater during the Unity ranking tabulation period. [1]

Changing Unities, or having a personal evaluation lower than five points for two consecutive ranking tabulation periods will make Trust: Ayame (UC) unavailable.
Raising personal evaluation up to five points during the Unity ranking tabulation period will make it possible to call forth Trust: Ayame (UC) again.

Unity leader Alter Egos receive bonuses to all stats based on the Unity ranking held at the time of summoning.

Completes skillchains while using Sengikori if ready. Does not seem to do so with any Dagger skillchains so far.
When she has 2000+ TP, she uses Shikikoyo on the party leader after they use a weapon skill. Appears to top off to 3000 TP if she can't close skillchain, but limits to 2000 if she can close.
Dialogue
Summon: A better companion than me you will never find.
Summon (while ranking is high): Many things exist just beyond the realm of our perception. I trust that you will be able to find those things which have been hidden to us all.
Summon (while wearing Ayame Unity Shirt): I have heard much about all the hard work you have done. That'll show Naji a thing or two!
Dismiss: I know you will do what is right.
Death: This burden...is too much to bear.