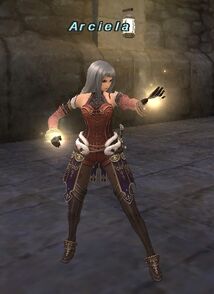 Race Hume
Role

Active Support

Weapon Hand-to-hand
Spell Cost

0 MP

Magic Type Trust
Jobs

All Jobs, Lv. 1

Casting Time

5 seconds

Recast Time

240 seconds

Obtained What He Left Behind
Notes
Job Traits: very high Fast Cast.
Job Abilities: Ascension for Enhancing Magic and Descension for Enfeebling Magic.
Weapon Skills:
Spells: Protect I-V, Shell I-V, Haste I-II, Refresh I-II, Flurry I-II, Slow I-II, Paralyze I-II, Addle, Dispel, up to Tier V Elemental Magic.
Notable:

Despite her classification as Support, Arciela II might be more accurately described as an offensive caster.
Unlike Trust: Arciela's Bellatrix of Light/Shadows, Arciela II's two casting modes will also deal magic damage to the enemy when used.
Attempts to magic burst off of skillchains.
Possesses increased duration for Enhancing Magic.
She casts no Cures at all.
Dialogue
Summon: For the founder king!
Summon (while Trust: Lion II is present): Lion, let's show them the power of teamwork!
Summon (while Trust: Prishe II is present): Right behind you, Prishe!
Summon (while Trust: Nashmeira II is present): Aphmau, I have the feeling we'd become the best of friends!
Summon (while Trust: Lilisette II is present): Don't get in over your head, Lilisette!
Summon (while Trust: Iroha II is present): Iroha, don't forget how important it is to stand on your own two feet.
Naakual's Vengeance: I'll carve out the path to the future myself, if I have to!
Dismiss: I promise that I'll never stop striving for greater heights!
Death:
Community content is available under
CC-BY-SA
unless otherwise noted.